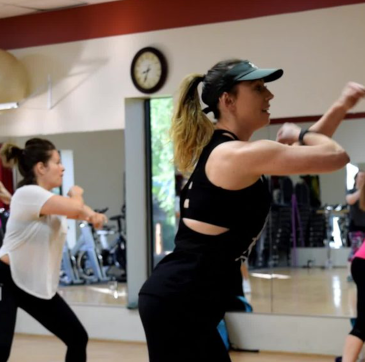 An exercise class that mixes traditional calisthenic and body weight exercises with interval training and cardio training. The class is designed in a way that pushes the participants harder than they would push themselves. All fitness levels are welcome.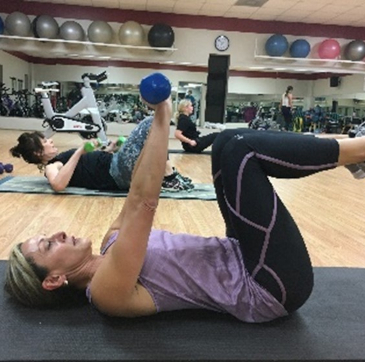 One boot camp workout might stress strength and calisthenics while another stresses Cardio. In most cases, you can expect to do weight machines, core work, lunges, crunches as well as drills and sprints.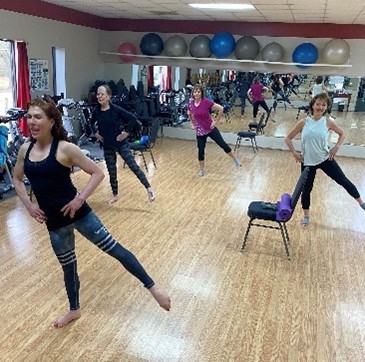 A fun class with upbeat music that is the perfect combination of ballet, strength, and flexibility, combined into a cardio format without jumping or impact on the joints. The workout fuses techniques from Dance, Pilates, and Yoga that will tone, define, and chisel the whole body.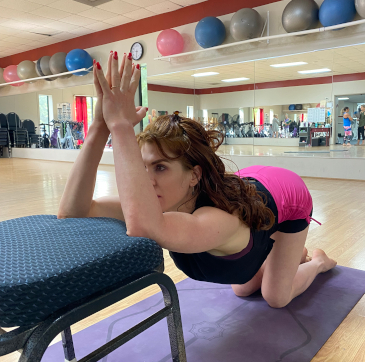 Join us on Thursdays from 10-10:30am. Holly Crabtree just completed her Certification in ALIXA FLEXIBILITY. This class is an excellent addition to strength training.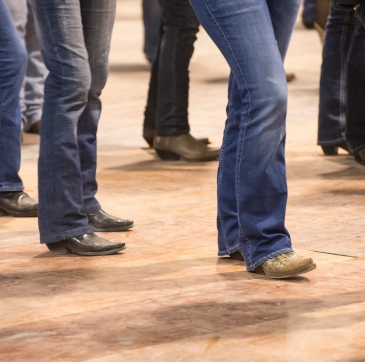 Learn the latest Line Dances, the first hour is geared to beginner steps and dances, feel brave and stay around for Intermediate steps and routines in the second hour.  This class is geared to all ages and skills.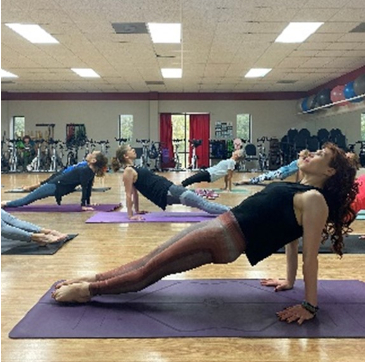 Pilates is a form of low-impact exercise that aims to strengthen muscles while improving postural alignment and flexibility. Pilates moves tend to target the core, although the exercises work other areas of your body as well.  This class is taught on a mat.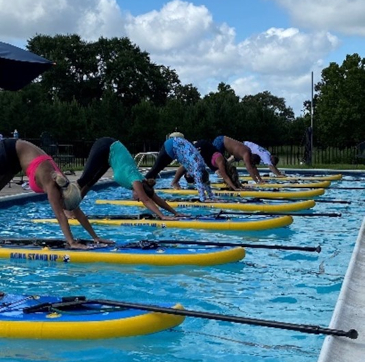 Paddleboard Fitness/Yoga is a 45-minute class inspired by stand-up paddle boarding.  The instability of the board placed on the water mixed with different fitness technics like HIIT, Pilates, Yoga, and muscular conditioning makes this a challenging class.  The Paddleboard is anchored to the sides of the pool.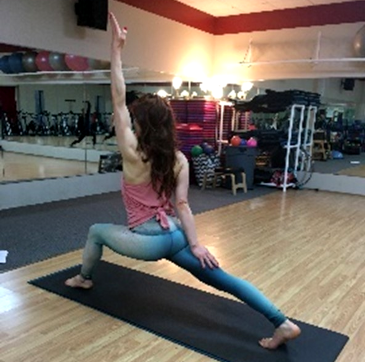 PIYO combines the strength training—and body lengthening—aspects of Pilates with the core training and stretching elements of yoga in choreographed sequences that are sped up to maximize results and provide an entirely new workout experience. Unlike traditional Pilates and yoga sessions, PIYO is designed to burn calories and make you sweat.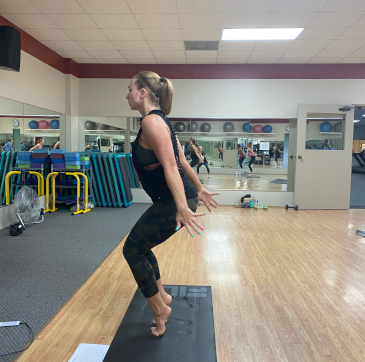 Pop Pilates is a Pilates-inspired dance fitness class that fuses ab-chiseling and total body defining moves choreographed to upbeat pop songs. This intense, mat-based workout challenges you to rhythmically flow from one exercise to the next, developing a rock-solid core while leaving no muscle untouched.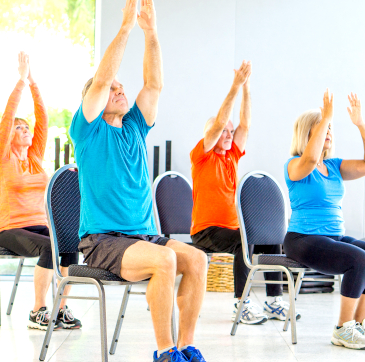 This class focuses on strengthening muscles and increasing range of movement for daily life activities. Participants can use hand-held weights, elastic tubing with handles and a bouncy ball. Often a chair is used for seated exercises or standing support.  This is a great beginner exercise class because you can move from seated to standing exercise and slowly increase your weights as you get stronger.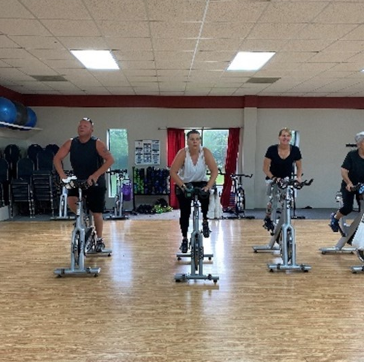 Spin/Burst Spin class is a form of exercise with classes focusing on endurance, strength, intervals, high intensity (race days) and recovery, and involves using a special stationary exercise bicycle with a weighted flywheel in a classroom setting. The Burst Spin is a 30-minute class.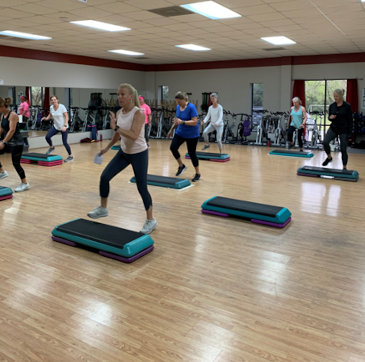 Step Class/Beginner Step – Step or Bench aerobics is a classic cardio workout. The "step" is a 4-inch to 12-inch raised platform. You step up, around, and down from the platform in different patterns choreographed to boost your heart rate and breathing. We provide a Beginner Class, a Choreographed Class and Fitness Step.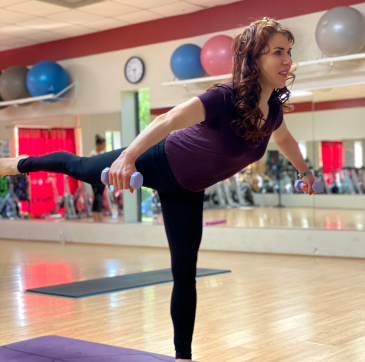 Soul Fusion is a fun, challenging class fusing class styles like PiYo, Pilates, Yoga, Cardio Fusion and more! You will burn calories, tone muscles, work on balance and get a great stretch. … This class requires the use of hand weights, exercise bands and a yoga mat.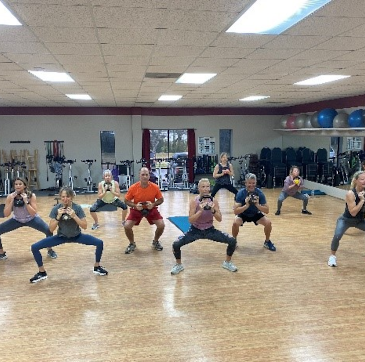 This class is HIIT (High Intensity Interval Training), which means it is bursts of workout followed by a short rest. The goal is to raise your heartrate and keep it high for the full 30 minutes. Traditionally it is 8 sets of 20 seconds of work and 10 seconds of rest.  We like to add some variety to that formula at Magnolia Fitness Center.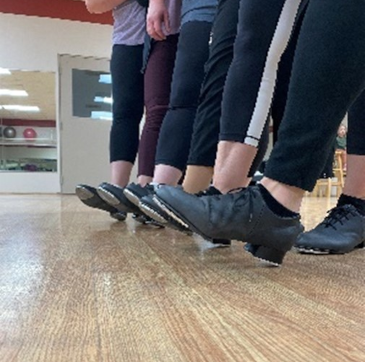 Get your tap shoes on and join in shuffling.  The class begins with working on individual steps that can be combined to make sequences.  You will work on your memory, balance, coordination, and endurance while learning new steps and sequences. Just Dance!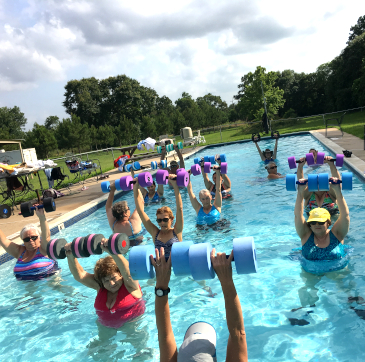 Full body exercises in the water including cardio, coordination, and balance.  The benefits of exercising in the water are buoyancy that provides decreased weightbearing through your legs, resistance created when moving in the water, ease of movement and decreased sense of falling.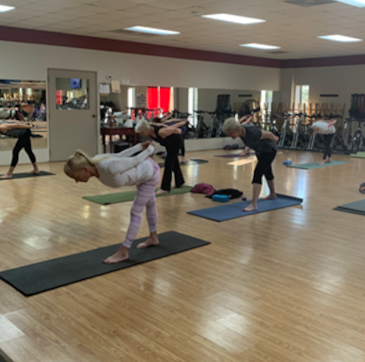 This class can be Ashanti, Vinyasa or Power Yoga. Controlled breathing, and a carefully structured series of stretches, moves and poses to create a holistic workout that brings the body into a state of harmony and balance. This class is 55 minutes consisting of 45 minutes of poses, stretches, and challenges with the final 5-10 minutes focusing on meditation and relaxation. Yoga 1 is our beginner class.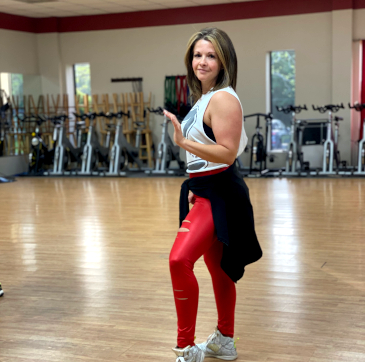 Zumba is a fitness program that combines Latin and international music with dance moves. Zumba routines incorporate interval training — alternating fast and slow rhythms — to help improve cardiovascular fitness. Dance to great music, with great people, and burn a ton of calories without even realizing it.